I take pictures. Since I got my first camera, I have been documenting my world through photography. I find I don't get a chance to take as many photographs a I would like to, it seems life tends to get in the way. This blog and my other photography outlets (Flickr, Instagram, etc.) are an attempt to keep me grounded in what I love to do. I am recommitting to this blog this year, and am changing directions to focus on my love of cameras, vintage film, and all things I love to take photographs of.
Sunday, April 22, 2012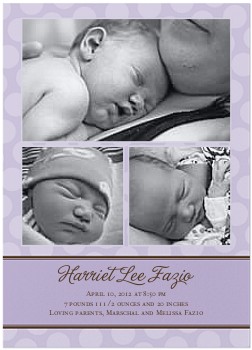 Just Dotty Lilac Birth Announcement
To see Shutterfly's birth announcement designs, click here.